Cursed Sword
Depth
Strength
Rarity
Dexterity
Base Level
Vitality
HP
Magic
Experience
Attack
Model
Defense
Scale
Bravery
Texture File
Host File
MONSTERS
Sub File
MAGICSWORD
File Name
sword_10.png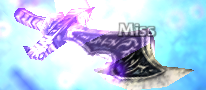 The Cursed Sword is a monster found only on levels 7 and up. It is known for being especially difficult to defeat. Unlike most monsters, Cursed Swords never appear out in the open; you can only find them by opening a chest that contains a Cursed Sword which will then attack you.  They have an eerie purple glow and have high defense levels. They appear to resemble a cutlass you can acquire in FATE. Oddly, it is not possible to use a Cursed Sword as a weapon once you defeat it.
There is also a stronger version of the Cursed Sword known as the Elite Cursed Sword.
Also, there is a charm spell that allows you to summon Cursed Swords. The spell summons 1 Cursed Sword per cast, and they initially start at level . They are summoned for 10 seconds longer and are 1 level stronger for each point you put into the charm magic skill.