Thunder Dragon
Depth
Strength
Rarity
Dexterity
Base Level
Vitality
HP
Magic
Experience
Attack
Model
Defense
Scale
Bravery
Thunder Dragons are monsters in the Dragon family. They are the second most powerful enemy in the game, second only to Venom Dragons, and are also the stronger counterpart to Thunderdrakes. Their scales are dark purple, and they breathe lightning instead of fire. Thunder Dragons are also completely immune to electrical attacks and have a high resistance to crushing attacks.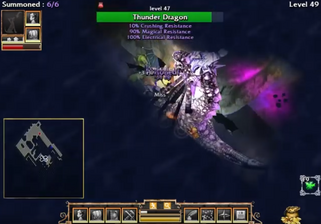 Community content is available under
CC-BY-SA
unless otherwise noted.